A Guide to Royalty-Free TikTok Music for Business Accounts
About the Author
Growth @ Slip.stream. Covers topics of creator economy, and music rights.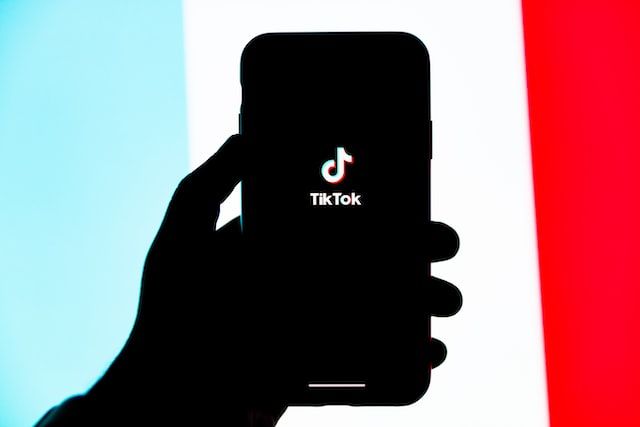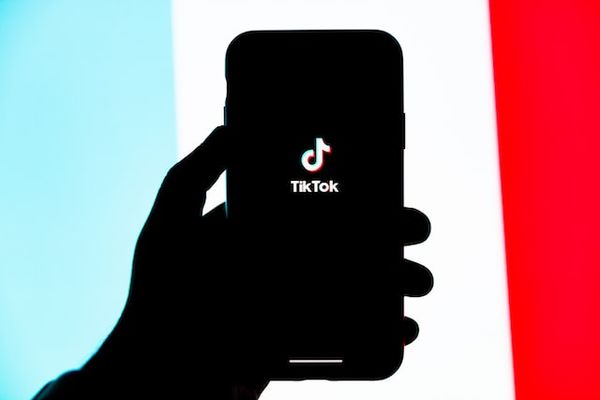 Jump to
Music Licenses For TikTok Business Accounts
How to Access TikTok's Commercial Music Library
Challenges of Using TikTok's Commercial Music Library
Find Music For Your TikTok Commercial Content
Affordable Royalty-free Option - Slip.stream
Frequently asked questions about music for business use on TikTok
If your company uses TikTok, you're surely aware of (and perhaps even annoyed by) the platform's restrictions on music for business accounts. You also might know already that there are so many legal obstacles in the way of using music for your ad content, so whether you are new to TikTok or running it for a while, we want to empower you with the knowledge to navigate this minefield.
TikTok is the best place to reach new, younger customers. Its algorithm can expertly connect your brand to the right subculture and niche, and one of the most influential factors in virality on TikTok is the sound.
However, in May 2020, TikTok announced that business accounts could no longer use trending sounds from the mainstream library. Instead, there is a commercial music library that signals a change in copyright policy on the platform. Today, they closely monitor business accounts with a fingerprinting system similar to Youtube, Facebook, and Instagram to flag any copyrighted content.
In this article, we will go through what music can be added to your business account and where to source acceptable tracks for business use on TikTok.
The Role of Music in TikTok Success
Music has played a crucial role in the rise of TikTok, with the first iteration of the app called Musical.ly. Creators would post short videos of themselves lip-syncing to popular songs using different speeds and filters to generate views. Since then, the use of music and trending sounds has continued to be a significant part of what makes TikTok videos successful and draws in viewers. Even using a trending song as background music can boost views. However, the system that tracks copyright will flag background music if it is copyrighted content, no matter how well it can be heard in the actual video. For this reason, business accounts must balance the use of viral sounds that help them reach potential customers with a strict, if vague, policy about copyright claims.
Music Licenses for TikTok Business Accounts
Every time you hear music on TV, in movies, in commercials, and even in restaurants—all of that music has to be licensed for commercial use. If money is involved, you need music that's licensed with profits in mind. So when you produce video content on TikTok on behalf of a business, the same rules apply.
In general, there are six types of licenses for various purposes. We are not going to go through every one of them but we will discuss the most relevant licenses for using music on TikTok.
One of the exciting parts of creating a TikTok is adding great music to the video. The licenses involved are:
Synchronization license, one of the most commonly issued licenses. It is a license allowing music to pair (or synchronize) to a moving image.
Master license, transferring rights of the original recording to people who wish to use the music.
Oftentimes, businesses will need to obtain both of these licenses for the copyrighted songs to be cleared for commercial use in Tiktoks..
Although TikTok does have licensing deals in place with Merlin, Sony Music, Warner Music, and Universal Music, since 2020, these licenses only clear the music to be used by individuals rather than businesses. If you are running a business account, all the videos published in the account are considered for commercial use. That said, if you want to pair music to TikTok videos on your business account, you can only select music that is cleared for commercial use (for example the music from the TikTok commercial library), otherwise, it triggers copyright infringement. If you want to use your own music, you also need to make sure you have obtained the respective licenses.
Some businesses consider making a cover of the song they wish to use and using that to get around copyrights. While that is a creative solution, you still need to obtain a mechanical license that allows the song to be reproduced and distributed.As a business, relying on TikTok's mainstream music library, or using whatever music is out there, is very risky. Your channel could be suspended or terminated. This starts with muting and a warning atop your TikTok video that reads "this sound isn't licensed for commercial use." If you see this, the chances are TikTok is closely monitoring your content for further violations.

How to Access TikTok's Commercial Music Library

You can avoid copyright claims against videos on your business account by using music from the TikTok commercial music library. The songs found in this library are already licensed for commercial use. If you have trouble navigating TikTok's commercial music library, here is the how-to.
On mobile:
Open up the TikTok app
Press the + button on the bottom of the app
Press Sound at the top and then select Commercial from the drop down menu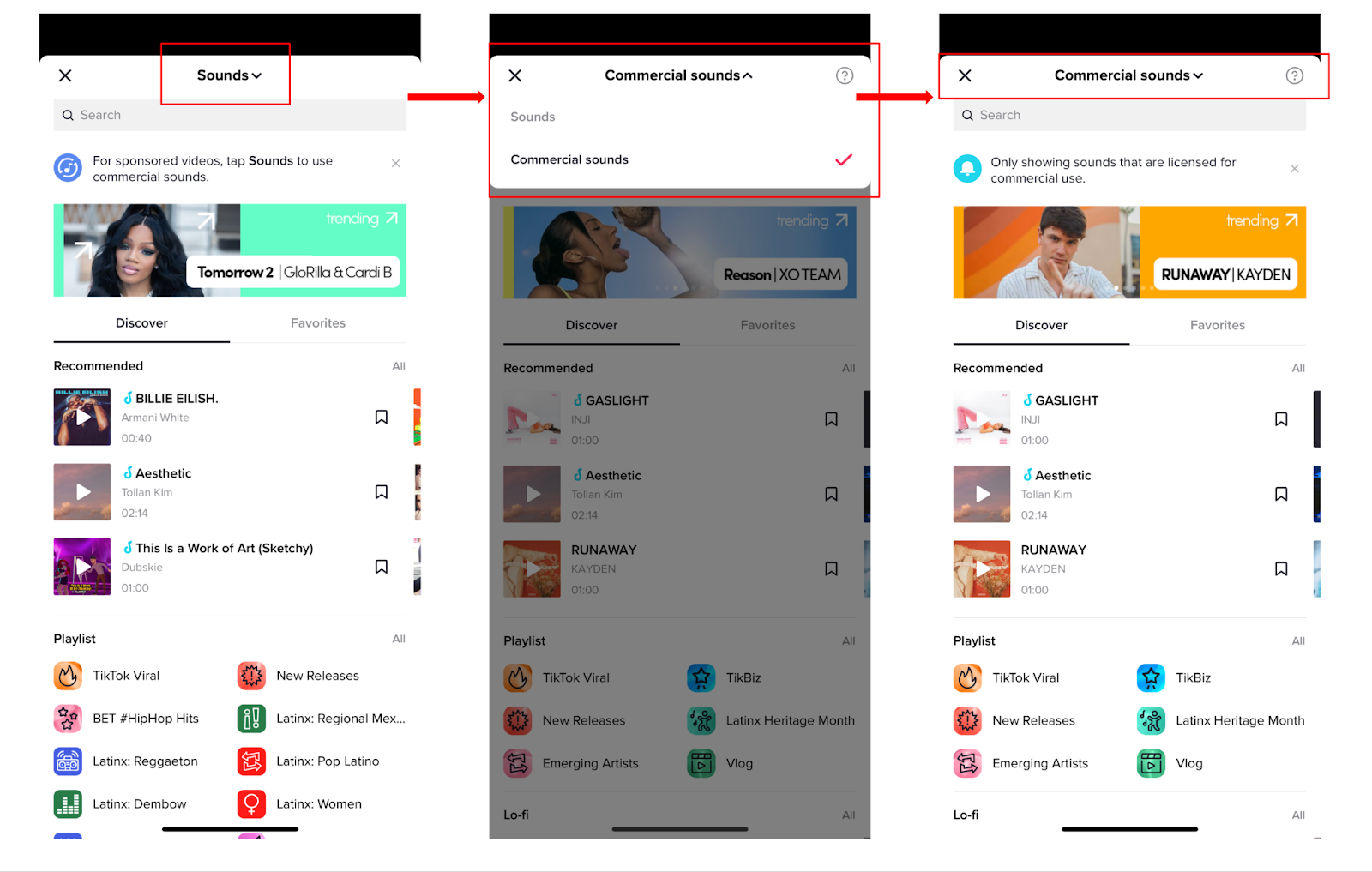 On desktop:
Go to TikTok creative center and login with your business account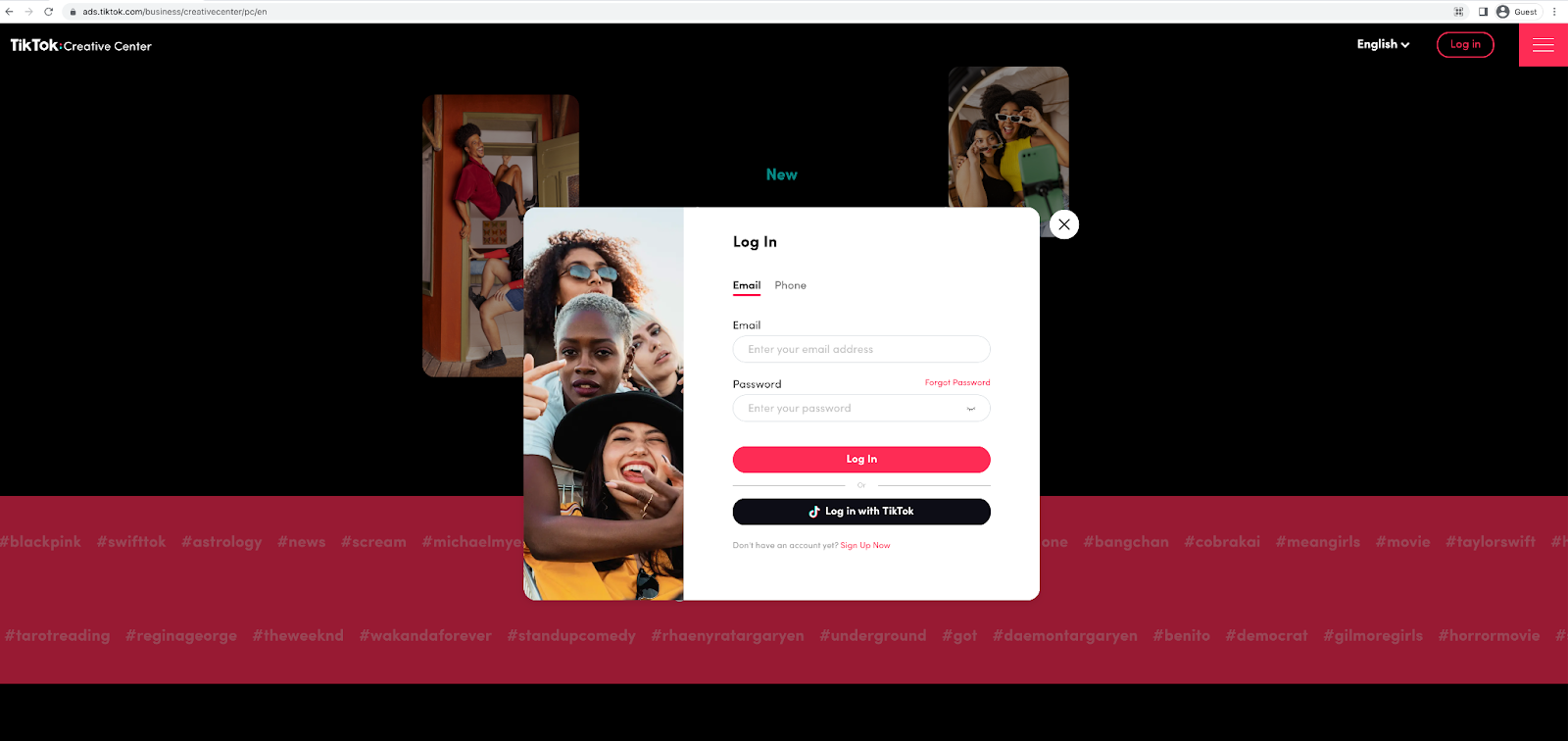 Click on the three bars sign on the top right to expand the menu
Select Audio Library and then select Music
Select commercial music with the filter


Challenges of Using TikTok's Commercial Music Library
All the songs in the Commercial Music Library have been pre-cleared for commercial use, so you can use them in your TikTok without worrying about copyright infringement. But, it's important to note, you cannot distribute your videos on other platforms, meaning these sounds are commercially licensed for use on—and only on—TikTok. This means you can't simply export them and post them on Instagram/Facebook Reels or Stories.
The selection is also quite limited and you can only use a single song for up to 60 seconds. The commercial library has a limited range of genres or mainstream alternatives, which can be frustrating for brands that are eager to tap into existing and trending sounds on the platform.

Find Music for Your TikTok Commercial Content
There are a few different ways that you can find acceptable music to use in your TikToks without relying on the commercial music library.
Obtain Music Licenses
This is a surefire way to pay respect to the original artists and avoid any future legal trouble. However, master licenses for mainstream songs are often difficult to obtain. Negotiation is often involved in the process, which generates time and financial costs. The license fee can range from a few hundred dollars up to tens of thousands.
Make Your Own Sounds
If you have the budget and the time, this could be the option for you. But a warning, making your sounds takes a lot of resources, has a long process, and is not scalable for the amount of content that needs to be posted on TikTok. As we mentioned above, you can't simply make covers of popular songs since that will involve a mechanical license.
Use a Royalty-Free Music Service
This is a popular choice among businesses because it's not only more affordable than other options but offers a long-term solution. Make sure you pick a service with a large catalog of music choices so that you can get the most from your subscription. It probably won't have the latest trendy sounds that personal accounts can take advantage of, but there are a ton of instrumental and vocal options to choose from. When paired with the right content, these songs can set your TikTok channel on fire.
However, be careful when you search for royalty-free TikTok music; some of them are not truly royalty-free as the music owners will start claiming eventually without notice.
Frequently Asked Questions about Royalty-Free TikTok Music
How Can You Tell If Music I Found on TikTok Is Royalty-Free?
TikTok has a setting that will automatically check for copyrighted sounds in posts that you create. You can turn this feature on by going to your profile, clicking the menu in the top-right corner, going to the creator tools, and turning on "Video sound copyright check."
Can You Be Sued for Using Copyrighted Music on TikTok?
Although it is unlikely, copyright holders can sue for the unauthorized use of copyrighted material. The best way to avoid this is obtaining the appropriate licenses or using royalty-free music.
Affordable Royalty-Free Option - Slip.stream

If you run a business TikTok account, you probably have experience looking for royalty-free songs and the various frustrations it can cause. Some of the songs aren't that good and audiences will just swipe away, or you risk getting claimed and having your video taken down. Other royalty-free music services are still costly to use, which can be a problem when your boss wants you to make great TikToks but doesn't want to pay.
Fortunately, Slip.Sstream is here to help. We are a one-stop shop for affordable, royalty-free TikTok music that is actually good. Slip.Stream has the world's largest royalty-free music catalog of over 100,000+ songs and sound effects. What's more, we have specifically tailored playlists for TikTok creators and those frustrated with the current commercial library. Our vibes are curated with ongoing trends in mind, so your ad content sounds fresh or engaging for Gen-Y audiences.
With a subscription to Slip.Stream, you can browse through instrumentals, vocals, and just about any genre you can think of! We also have affordable plans designed for businesses of all sizes, with unlimited access to music and SFX.


Read more